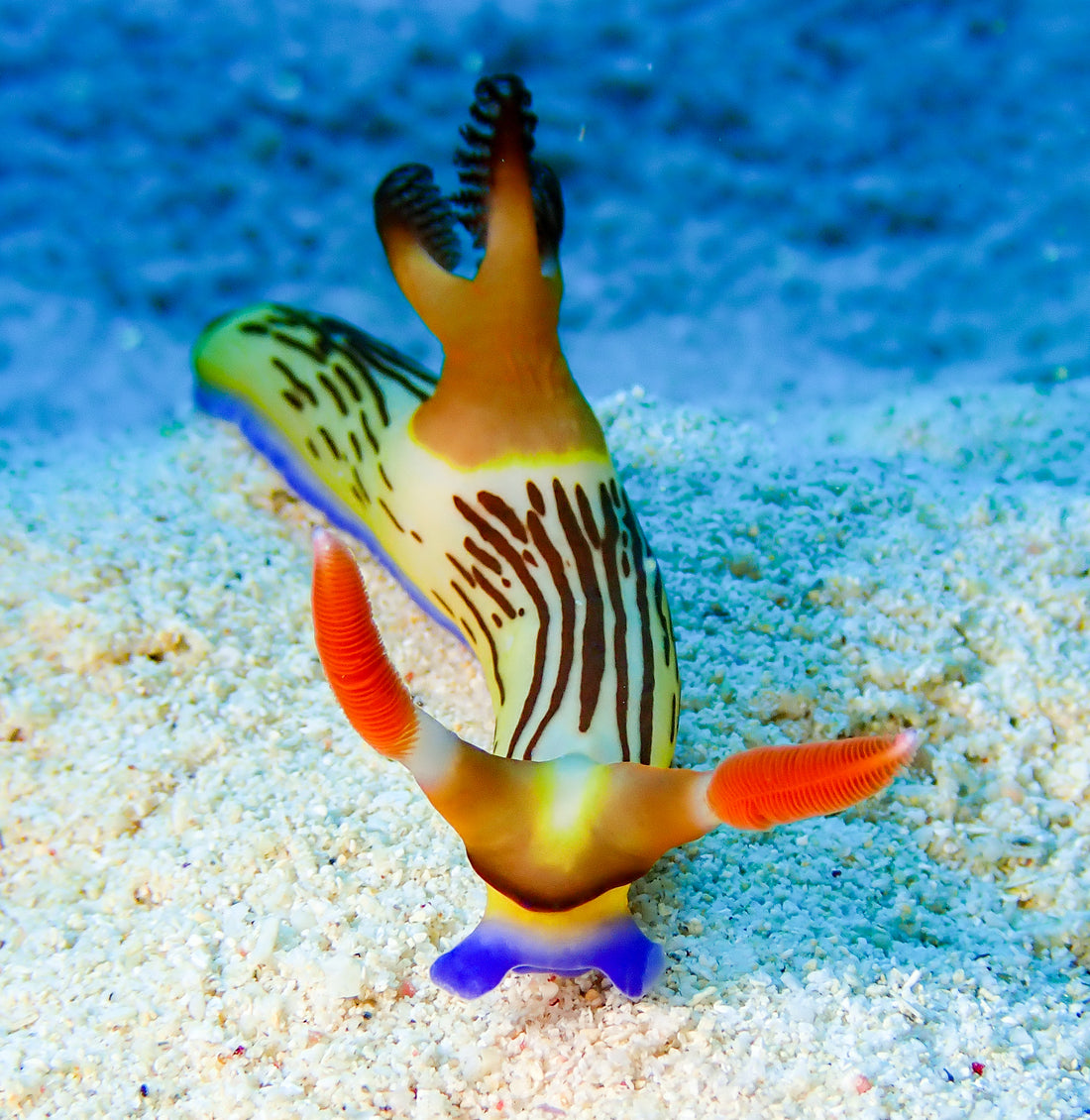 By: Corinne Klein 
With 18,485 miles (29,751km) of coastline spanning 6,852 islands, Japan is quite literally SURROUNDED by Nudibranchs. From the tropical coral reefs of Okinawa, across the temperate, volcanic coastlines spanning the mainland of Honshu, all the way up to the icy waters of Hokkaido, the species diversity of nudibranchs is off the charts!
A field guide to sea slugs and nudibranchs of Japan written by Rie Nakano lists 1,400 species found in Japanese waters. Considering there's ~3,000 nudibranch species worldwide, it's impressive that you can find roughly half of those off the coast of Japan.
Known as umiushi (ウミウシ) in Japanese, nudibranchs are well known amongst divers and have also made their way into Japanese culture. They pop up in multiple anime and manga (comics), Emperor Hirohito published a book about the Sea Slugs of Sagami Bay, and the town of Hayama has a life sized Hypselodoris festiva nudibranch as their mascot (IG: @myusy.seaslug).
So where can you find them? See below for dive sites and the Nudibranchs you can find.
Okinawa and Izu Islands
For tropical species you would expect to find in the Indo-Pacific, the Okinawan and Izu islands, plus waters surrounding southern Kyushu, are your best bet. Super colorful and plump dorids like Hypselodoris apolegma and Chromodoris kuniei, gold lace nudis (Halgera), Bornella anguilla, tiny shaun the sheep, and the bright yellow Pikachu Nudibranchs are just a smattering of Nudibranchs you will uncover while diving in these warm waters.
Gorilla Chop, Okinawa
Left: Scuba Diver at Gorilla Chop Dive Site in Okinawa. Right:  Pikachu Nudibranch (Thecacera pacifica). Photos by Corinne Klein
Kin Red, Okinawa
Left: Sunset at Kin Red Dive Site in Okinawa. Right: Goniobranchus leopardus with eggs. Photos by Corinne Klein
Keramas Islands, Okinawa
Halgerda diaphana Nudibranch at Keramas Islands in Okinawa. Photo by Corinne Klein
Any and all dive sites off Hachijojima
Left: Scuba Divers entering the water at Nazumado dive site in Hachijojima. Right: Hypselodoris Nudibranch. Photos by Corinne Klein
Left: Bornella anguilla Nudibranch taken at Yaene Port, Hachijojima. Right: Shawn the Sheep Sea Slug (Costasiella kuroshimae) taken at Kaminato Port dive site, Hachijojima. Photos by Corinne Klein
Nembrotha lineolata Nudibranch taken in Okinawa. Photo by Corinne Klein
Chromodoris Nudibranch taken in Okinawa. Photo by Corinne Klein
Honshu
On both sides of Japan's largest island, Honshu, there are two opposing currents with the north flowing Kuroshio current bringing up warm water from the Philippines converging with the cold south-flowing sub arctic Oyashio current around the middle of the island. Along with a massive swing in water temperatures where the summers are a balmy 23C-26C (73-78F) vs winter waters which hover between 10-14 (50-57F), each season brings in a wide variety of Nudibranchs.
The beautiful blue bodied Hypselodoris festiva adorned with yellow stripes and orange rhinophores is by far the most common. They are such a staple that local guides don't even point them out! Another frequent sighting is the Goniobranchus orientalis with its dalmatian patterned body accented with a yellow fringe and matching rhinophores and branchial plume. A winter fan favorite is the lanky, purple Pteraeolidia semperi (blue dragon) who can be found in decent numbers along the rocky reefs.
While many nudibranch species can be found year-round from coast to coast, the fun kicks off in Spring when Tokyo and Sagami Bay in particular explode with Nudibranchs coming together to mate.
Dive Sites Closest to Tokyo include:
Hayama
Left: Goniobranchus orientalis Nudibranch taken in Hayama. Right: Blue Dragon (Pteraeolidia ianthina) Nudibranch in Hayama. Photos by Corinne Klein
Jogashima Island
Left: Tambja sagamiana Nudibranch from Jogashima Island. Right: Protaeolidiella atra Nudibranch from Jogashima Island. Photos by Corinne Klein
Izu Oceanic Park
Spanish Dancer (Hexabranchus sanguineus) Nudibranch from Oceanic Park, Izu. Photo by Corinne Klein
Tokyo Bay
Left: Scuba Diver walking down to the dive site on Miura peninsula in Tokyo Bay. Right: Phyllodesmium opalescens Nudibranch found in Tokyo Bay. Photos by Corinne Klein
Hypselodoris festiva Nudibranchs in Tokyo Bay. Photo by Corinne Klein
Hokkaido
Depending on your commitment to see a unique sea slug and tolerance to being submerged in below freezing waters, the most northern prefecture in Japan has 3 out of the 4 sea angel species (Clione sp.)! These ethereal pelagic sea angels flap along under the frozen sea ice at the most northern tip of the island.
Sea of Okhotsk
Check out https://dive-in-japan.com and www.japan.travel/en/sports/diving/ for a much more comprehensive list of dive spots around Japan.
Japan's differing topography, currents, water temperatures, and depths result in a diverse marine environment leading to species richness not only in nudibranchs but a plethora of sea creatures. When you inevitably find yourself nudibranch hunting in Japan, seaslugworld is an excellent website (and app) for IDs. It's in Japanese but with the help of google translate and the ease of searching over 30,000 pictures by color you will find your Nudibranch in no time!
Your Email Address Will Not Be Published. Required Fields Are Marked *
Subscribe to my newsletter and emails and never miss an update!