Photographer Spotlight - Morgan Riggs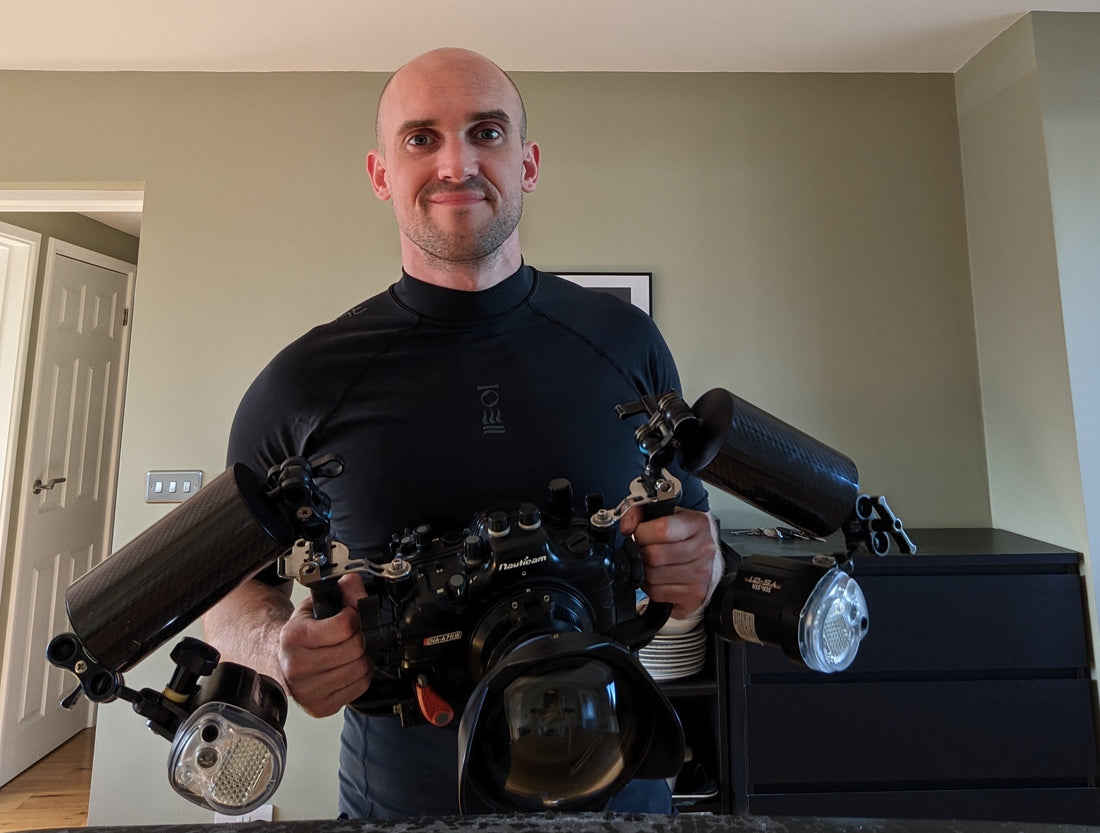 I am excited to introduce my July Underwater Photographer - Morgan Riggs. He is an electrician in North London who travels all over the world to scuba dive and take photos as well as teach scuba diving. He has spent long stretches of time in Indonesia, Ecuador, Egypt and Cuba. You can follow him on Instagram at @morgans_ocean_images or visit his website at morgansoceanimages.com - Keep reading to find out more about Morgan and his journey with SCUBA & Underwater Photography!
Morgan Riggs with his Underwater Photography Gear
Hi fellow nudi fanatics, it's amazing to be here! I'm Morgan, a huge dive, nature and all things ocean enthusiast. I almost feel like I live a double life sometimes because my usual work/social life is based in the UK, in north London, miles and hours from any ocean! My 'normal life' is working as an electrician to fund my photography and diving habit. When the time is right I like to pack my bags, dust off my camera gear and disappear to explore and get my fix, sometimes for months at a time, getting lost in the name of adventure!
Black-margined Nudibranch (Doriprismatica atromarginata) Nudibranch on Scorpionfish by Morgan Riggs
When and why did you start diving? 
Although I've always been an ocean and nature lover, as memory serves, I have my dad to thank for kickstarting my sea obsession. In 2015, completely out of the blue and having never been away just the two of us, he called to ask if I'd be interested in going to Mexico for an open water course! Since the pool sessions, the sensation of breathing underwater and all the amazing creatures below the surface, I knew this was going to be a life long hobby. Shortly after I found myself on a solo trip to join a marine conservation project in Timor Leste and then the travelling kind of snowballed from there! Years later and not far from 1000 dives, I worked up to instructor and have been to truly outstanding parts of the world.
Anna's Chromodoris (Chromodoris annae) Nudibranch by Morgan Riggs
How and why did you get started with photography?
Just like diving, I'd never really owned a camera other than one on my phone before Mexico. I started with my Dads GoPro at the time as many do, small and light, uncomplicated for beginner divers. After seeing what was possible speaking to other guests/divers with some lighting and different lenses etc, my setup gradually evolved into what it is today. My main motivation was to show friends/family and the world what we need to protect, encourage more divers and increase awareness of the importance of the ocean and all it's inhabitants.
Crested Nembrotha (Nembrotha cristata) Nudibranch by Morgan Riggs
Tell the community a little about your photography setup! Dive gear and photography must haves. 
In 2019 I had a fantastic opportunity to go and create some media for a dive operator. I used that as my justification to upgrade my camera at the time, moving from a Canon G7x compact to a mirrorless Sony A7RIII. This combined with a Nauticam housing, 2 strobes and a 90mm macro lens for my little nudi subjects, plus a super macro wet lens for those really tiny critters! Dive gear must haves would be multiple pockets! I like to carry a macro and wide-angle option because you truly never know what you might come across! Lighting of course is a must at depth to get those really crisp images, a simple handheld torch can have a huge impact on a picture.
Gem Doris (Dendrodoris krusensternii) Nudibranch by Morgan Riggs
What is your favorite Nudibranch and where can you find them?
Not sure it would be my all time favourite but I don't think I've been as excited to go searching for the elusive Ghost Nudi! After learning they had been seen at a site around Bangka Island, Sulawesi, where I was staying at the time. It became quite the beach side gossip and all of a sudden everyone wanted to go searching for them. After 20 minutes with our noses in the sand, one was spotted, then another, and another. We had found a great spot for the Melibe colemani, a truly strangely composed piece of wildlife that just makes you question how can it look like that!?
Ghost Nudibranch (Melibe colemani) by Sonja Ooms
Your go-to resource for identifying nudibranchs or other creatures you see underwater?
In most scenarios, dive guides usually have exceptional knowledge on species names and can tell you plenty of information on many different nudibranchs. However if you just need more facts - my most familiar go-to resource for nudis is definitely 'Reef Creatures' by Paul Humann. Crammed full of pics and information on nearly anything you will ever find. Always a pleasure seeing one of these onboard or in the dive shop.
Mourning Dorid (Jorunna funebris) Nudibranch by Morgan Riggs
Where is your favorite place to dive or explore the ocean? Also where are a few places at the top of your bucket list?
In the past few years I have been fortunate enough to dive some of the best dive sites in the world, over several continents. Including big pelagic sites like the Galapagos and Cocos Islands, wrecks in Egypt and Australia, manta hotspots in the Maldives and Mozambique. I still think Indonesia for me will always have a special place, after spending 5 months in Sulawesi between 3 locations. The perfect combination of beautiful blue water, warm temps, magnificent coral reefs, amazing bio diversity, it has so much to offer, as well as the wonderful people and culture. The top 3 on my bucket list today would be Raja Ampat, Anilao and Tubbataha reef, for when the time comes to dust off my camera.
Slender Ceratosoma (Ceratosoma gracillimum) Nudibranch by Morgan Riggs
Your goals for underwater photography or diving. 
Tech diving has been something I'd want to try but foremost I think embarking on a freediving journey would be my next challenge, this would be true freedom underwater.
On the photography front, I'm still waiting for Nat Geo to call and offer me my dream job… On a serious note though, I suppose constantly improve, evolve and be more creative as whole is a realistic goal, perhaps even win or get recognised in a competition would be cool too. 
Coryphellina flamma Nudibranch by Morgan Riggs
Lastly, some tips and tricks for other underwater photographers who are just getting started. 
I always say before doing anything with a camera, hone your diving skills. Buoyancy, air consumption, etc is key before you add the distraction and burden of carrying a camera for the whole dive. As a beginner I've definitely been guilty of looking through the lens and completely ignoring what's going on around me or what depth I'm at. Secondly, if your camera allows, shoot in raw format. I have managed to revive many photos through post processing. While they may not be the best photo, as least you'll be able to save it as a memory or use as proof for anyone who doesn't believe you found 'THAT' special nudi that everyone else missed!
Chromodoris willani Nudibranch by Morgan Riggs
Blue Dragon (Pteraeolidia semperi) Nudibranch by Morgan Riggs
Dusky Nembrotha (Nembrotha kubaryana) Nudibranch by Morgan Riggs
Samla riwo Nudibranch by Morgan Riggs
Black-margined Doriprismatica atromarginata Nudibranch by Morgan Riggs
Anna's Chromodoris (Chromodoris annae) Nudibranch by Morgan Riggs
Thanks to Morgan for the writing and beautiful photos in this 
#PhotographerSpotlight
 -
 be sure to follow them on Instagram! 
💕
⁠ Comment your favorite photo!⁠
Do you know someone that loves Nudibranchs & takes great photos of them? Email me so I can reach out! shop@ilovenudis.com
Your Email Address Will Not Be Published. Required Fields Are Marked *
Subscribe to my newsletter and emails and never miss an update!