Top Nudibranch Photos from October 2023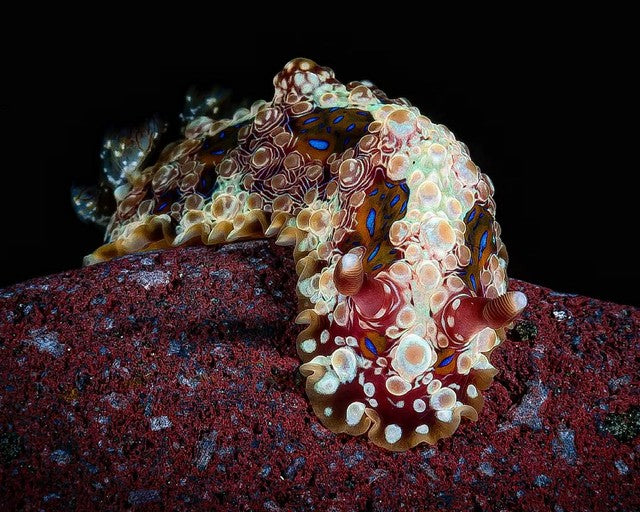 Almost every day, I share Nudibranch and Sea Slug photos from tags I get around the world. Below are the most liked photos of October 2023. Be sure to follow me on Instagram here to see the daily posts!
What is a Nudibranch anyways? They are colorful Sea Slugs found all over the world in beautiful varying colors, sizes and shapes. About 3,000 different species have been identified and more are discovered every year. Nudibranchs capture the wonder and beauty of the ocean - help me teach the world about them!
Gem Doris (Dendrodoris krusensternii)⁠ 📸 @oscarmontferrer⁠ 📍 Matahari Tulamben Resort⁠
Fun Fact: "It is found from the low tide zone to depths of 15 m on semi sheltered rocky shores. It is widespread in tropical and subtropical waters of the Indo-Pacific Oceans." - The Marine Life Database 2020⁠ 
Bullock's Hypselodoris (Hypselodoris bullockii)⁠ 📸 @monaphotographer⁠ 📍 Maldives⁠
Fun Fact: Hypselodoris bullockii is considered to be widespread in the western and central Pacific, from Japan, Taiwan, Hong Kong, the Philippines, Indonesia, Malaysia, eastern Australia, the Marshall Islands and New Caledonia. They are quite pale purple in color and has been mistaken for a number of other species.
Phyllidiella pustulosa⁠ 📸 @olieturner3⁠ 📍 Oahu, Hawaii⁠
"Phyllidiella pustulosa, nudibranchs are known for their bright colors. Don't be fooled though, Many nudibranchs are toxic and obtain their toxins from the prey they consume. The bright bright colors serve as a warning to potential predators."⁠
Aegires villosus⁠ 📸 @aaadri90⁠ 📍 Matahari Tulamben Resort⁠
Fun Fact: "Yellow, purple, black… This tiny beauty was less than 2cm in size." These are found in the Indo-Pacific region and feed on calcareous sponges.⁠ ⁠
Goby riding a Bullock's Hypselodoris (Hypselodoris bullockii)⁠ 📸 @jpereyra2020⁠ 📍 Tulamben, Bali⁠ ⁠
Are you an underwater photographer? Be sure to tag me in your Nudibranch and Sea Slug Photos and video! I'd love to share them with the Nudi Colony!
Your Email Address Will Not Be Published. Required Fields Are Marked *
Subscribe to my newsletter and emails and never miss an update!