NUDIS IN THE NEWS - April 2023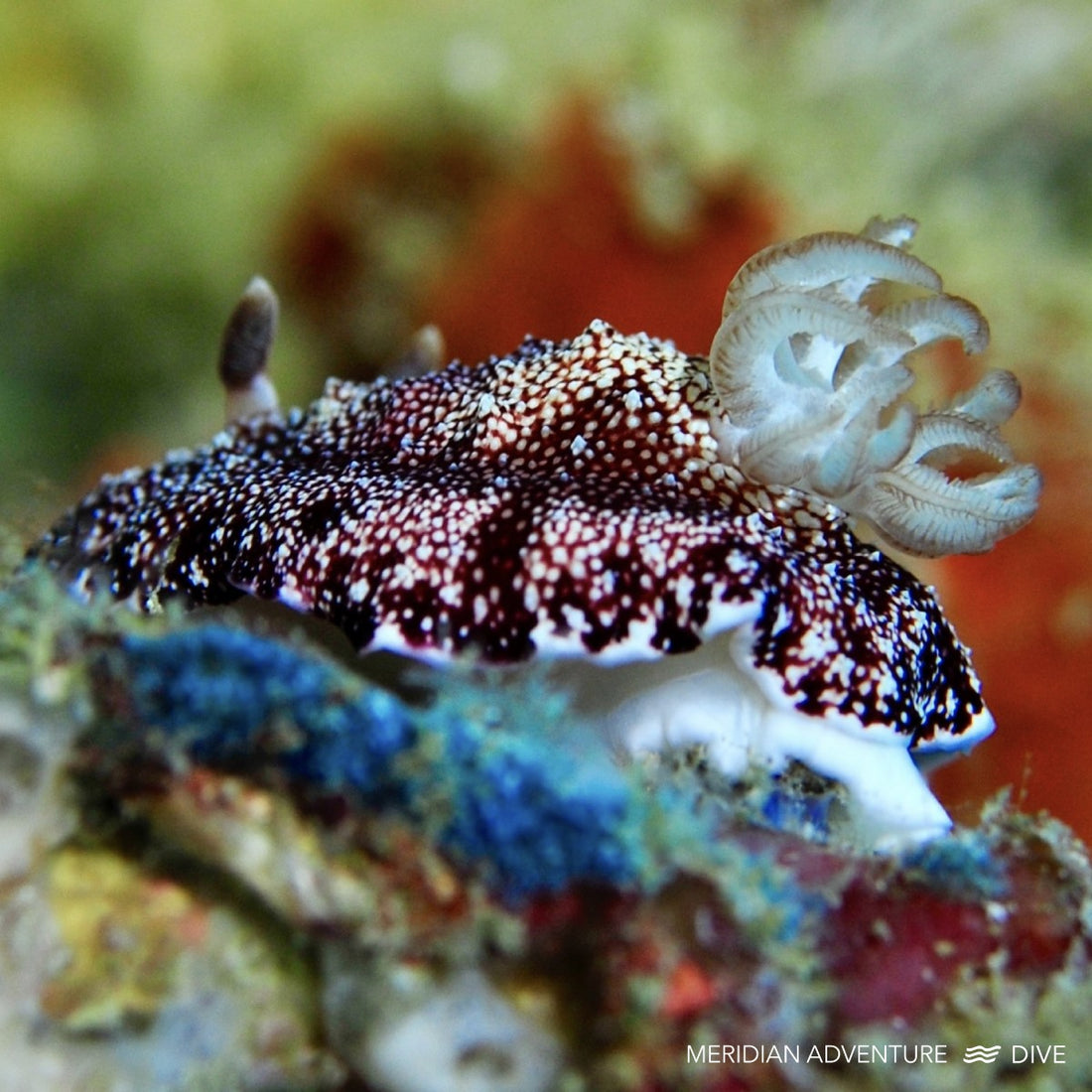 Situated in Raja Ampat, Indonesia, Meridian Adventure Dive is a PADI 5 Star Resort and winner of the PADI Green Star award. Scuba divers enjoy our professional services that have become synonymous with both the PADI and Meridian Adventure names. 

Nudibranchs of Raja Ampat

by Adrian Stacey in Scuba Diver Magazine. 

Raja Ampat is rightly known as the most biodiverse marine ecosystem in the world. The abundance of healthy coral reefs and marine species is a diver's dream. The Nudibranchs are one of our favourite marine creatures you can see during your visit to the region.

The smallest creatures get the most attention from divers worldwide. More than 3000 species of these gastropods have been identified worldwide. If you keep your eyes peeled for these tiny critters, you can expect to see as many as 100 on a single dive in Raja Ampat.

Read the whole article here

The iNat community identified this as a threaded nudibranch (Pseudobornella orientalis)—which normally lives in the Indo-West Pacific, and hadn't been seen in our part of the Pacific. After more investigation, marine ecologist Marisa Agarwal published an article documenting it in BioInvasions Records.

2023 City Nature Challenge, A Global Competition You Can Join This Weekend

by Kate Golden in Bay Nature.

Do you live in the Bay Area of California? Join the CNC iNaturalist Challenge this weekend! 

City Nature Challenge has come to provide the biggest annual bump in iNat observations each year. 

Read more here

A sea creature which featured in BBC One programme 'Wild Isles' hosted by David Attenborough have been spotted at a harbour in Eastbourne. Picture by Marilyn Dewar

Sea creature featured in David Attenborough's BBC One show 'Wild Isles' spotted in Eastbourne

by Sam Pole with Sussex World.

The Royal Flush Sea Slug featured on WildIsles was photographed in Sovereign Harbour in Eastbourne. Click to see more beautiful photos of this Sea Slug here 

A thick-horned nudibranch (Hermissenda crassicornis) slithers through a tidepool. Photo Credit: Mylasia Miklas/HRAP

The 6th Annual Nudibranch Safari is April 21st

by The Haystack Rock Awareness Program in the Cannon Beach Gazette.

I am so sad I missed this! For an hour Lisa Habecker, Volunteer Coordinator and resident nudibranch lover, attempted to find all the species of nudibranchs commonly found in the tidepools at Haystack Rock. Lucky for us it was streamed and we can watch it! Find it on their socials at @Haystackrockawarenessprogram

or their website here. Read the full Cannon Beach Gazette article here

The UK has some fabulous diving in her seas, not least on the hundreds of wrecks. There is also beautiful marine life and at times stunning visibility.

Diving in the British Isles

by Jill Studholme with Scuba Travel News

Read about diving in the British Isles and why you should add it to your travel list. Hint - there are an estimated 8500 marine species of plant and animal.

Read the full article here.
See any Nudibranchs in the News this month that I didn't cover? Send to me so I  can share! My email is shop@ilovenudis.com
Your Email Address Will Not Be Published. Required Fields Are Marked *
Subscribe to my newsletter and emails and never miss an update!