NUDIS IN THE NEWS - JUNE 2023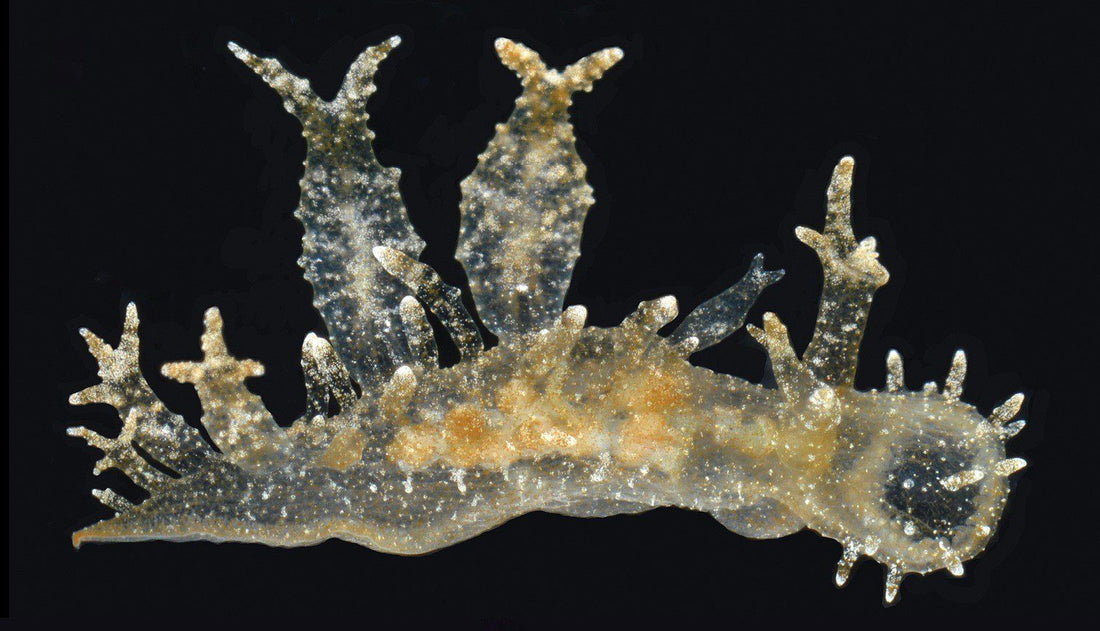 Melibe arianeae nudibranch by Ariane Dimitris
Making a name by diving the small stuff
By Steve Weinman for DIVERNET
Divers might sometimes wonder what it would be like to discover a new marine species and have it named after them. Dimitris, a scuba instructor who formerly conducted critter-spotting guided dives on Florida's Atlantic coast, has had several opportunities to find out. 
After her first sighting of the dotty coral shrimp eight years ago she collected not only photographs but specimens, which she shared with the Florida Museum of Natural History in Gainesville. Experts there confirmed that the animal was one that had not previously been described.
...and she has already been rewarded by having two nudibranchs found in Florida named after her. One of these she did not in fact discover, but helped on its way to being described in 2013 – Melibe arianeae. Another, which she was the first diver to find, was named Dondice arianeae last year.
Read the full article here.
Winning entries of the 8th Anilao Underwater Shootout (clockwise from left): Dennis Corpuz (Open Marine Behavior, 1st), Jose Antonio Caluag (Compact Nudibranch, 3rd), Dennis Corpuz (Open Nudibranch, 1st) and Regie Casia (Compact Marine Behavior, 1st).
LOOK: Oddly beautiful under-the-Philippine sea photos hit 'Little Mermaid' vibes
While "The Little Mermaid" is still slaying it on terra firma in cinemas, the Department of Tourism (DOT) made happy splashes for ocean lovers recently as it put the spotlight on the colorful underwater world of Anilao, Batangas. 
Amateur and professional underwater photographers reunited three years after the lockdown to submerge their cameras once again and to capture the biodiverse marine life in Anilao. 
It was indeed the last summer hurrah as the 8th Anilao Underwater Shootout (AUS) made waves in the international diving community through the incredible photographs produced by its Filipino and foreign members.   
A total of 153 diving and photography enthusiasts — from 14 countries —showed up. Tourism Secretary Christina Garcia-Frasco said the event aims to strengthens the country's bid as a top international diving destination. 
Today, the Philippines is recognized by international diving and travel websites as a top diving destination. "The Department of  Tourism is committed to ensuring that the Philippines maintains its standing as the world's leading dive destination through a coordinated, focused and fully supported approach to the further development of our dive products across the country," said DOT Undersecretary Verna Buensuceso.
Read the full article here and check the DOT website for the full list of winners.
Melibe viridis Nudibranch by DiveIvanov 
This carnivorous sea slug with a gooey, trap-like mouth looks like it arrived from a distant galaxy
By MARK FRAUENFELDER with BOINGBOING
The Melibe viridis, is a type of carnivorous sea slug, that looks like a science-fiction monster designed by a kid with a Midjourney account. Watch the video to get a glimpse of its unique, vacuum cleaner-like head with a mouth that expands like crazy to ensnare its prey.
It has a translucent body with visible internal organs and a mouth lined with protruberances which it uses to sense tasty little crustaceans. It uses its sticky Hungry Hippo-like hood to trap its food. 
Read the full article here
A nudibranch of the seabed of Ardmair Bay.
Nature Watch: Awed by a magical underwater garden in Wester Ross
By Keith Broomfield with The Courier
It felt like I was privy to the enchanting world of a secret underwater garden where colour shone in every direction and new nature surprises unfolded at every turn.
It was apparent the animals had moved inshore to breed and the weird white spiral objects were their egg masses. I had never witnessed this species before and as far as I am aware has no common English name, instead known by its scientific nomenclature, Pleurobranchus membranaceus.
Nudibranchs are marvels of nature and are molluscs that lack a protective shell. To overcome the lack of external hard protection against predators, nudibranchs employ noxious chemical defence mechanisms to discourage attack, and their bright colouration acts as a warning signal for predators to keep their distance, much in the same manner as the vibrant yellow and black striped patterning of a wasp.
Read the full article here
A blue velvet nudibranch crawls on the sand in front of a large sea cucumber in the Great Barrier Reef off the coast of Cairns, Australia October 26, 2019. (credit: REUTERS/LUCAS JACKSON)
Thousands of unknown sea creatures found in untouched area in Pacific
In the Clarion-Clipperton Zone, surveys until now only compiled lists with informal species names and very few formal species descriptions. 
Scientists now compiled these informal lists and published their results in a peer-reviewed study on May 25 in the journal Current Biology. According to their estimates, they found a total of 5,578 different species in the region, an estimated 88%–92% of which were described for the first time ever.
"There are some just remarkable species down there. Some of the sponges look like classic bath sponges, and some look like vases. They're just beautiful," said Rabone of the CCZ samples. "One of my favorites is the glass sponges. They have these little spines, and under the microscope, they look like tiny chandeliers or little sculptures. There are so many wonderful species in the CCZ, and with the possibility of mining looming, it's doubly important that we know more about these really understudied habitats."
The rise in global demand for metals like cobalt and nickel has created unprecedented interest in deep-sea habitats which possess mineral resources.
Read the full article here.
See any Nudibranchs in the News this month that I didn't cover? Send to me so I can share! My email is shop@ilovenudis.com
Your Email Address Will Not Be Published. Required Fields Are Marked *
Subscribe to my newsletter and emails and never miss an update!